How to Prevent Frizzy Hair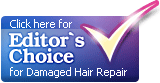 Frizzy hair is one of the most annoying hair care problems to deal with. Those suffering from frizzy hair find themselves in a perpetual battle in a quest seeking how to prevent frizzy hair. Undoubtedly, they have also tried a few of the many products lining store shelves that claim to fix dry, frizzy hair.
Instead of worrying about fixing your hair once it gets frizzy, it's better to take preventative measures that keep hair from getting in that condition in the first place. What follows is a list of tips you can follow at home to help you learn how to prevent frizzy hair.
How to Prevent Frizzy Hair at Home
Before you rush out to the store to buy the latest frizzy hair cures, you need to take the steps necessary to reduce the occurrence of dry, frizzy hair.
Heat Styling- Nothing will get your hair drier and frizzier faster than using a heating appliance without protecting your hair. Blow dryers, hair straighteners, and curling irons all damage the hair by heating it to unnatural levels. As a result, excessive use of these products causes a constant frizzy hair problem.


Hair Products- To get your hair just right, you probably use at least one hair care product. Some people use gel; others use hair spray. Regardless of what hair care product you prefer, the chances are it's contributing to your frizzy hair problem. No matter how many frizzy hair cures you buy, if you keep using gels, mousses, and hair sprays, your frizzy hair will always return. Limit your use of these products to improve the health of your hair.


Towel Drying- Another way we create dry, frizzy hair is by drying our hair roughly with a towel. Instead of rubbing the coarse towel across your scalp, use the towel to gently squeeze the water out of your hair. This will keep your hair healthy, strong, and frizz-free.
Products to Prevent Frizzy Hair
If giving up blow drying is simply not an option, consider using a heat-activated hair repair product. This revolutionary new method use heat to seal moisture into the hair. Beware of hair repair product that use silicon - this will just weigh down your hair, making it lifeless and limp.